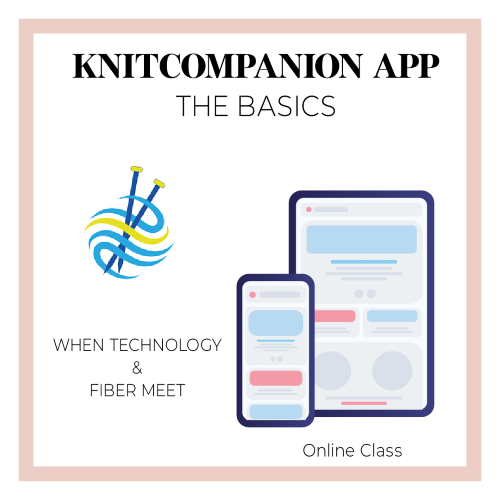 When Technology & Fiber Meet 
This is a virtual class.
Do you have an Apple or Android device and the knitCompanion application? KnitCompanion has many features and some very advanced capabilities. Much of what it does frees you from having to make photocopies or prints of your patterns, cutting out charts and taping multi-page charts together, using magnets or highlighter tape, and flipping between pages while knitting. Once you get familiar with knitCompanion's electronic setup wizards and convenient interface, you'll never want to go back!

In this virtual class, Mindy Owen, owner of the well-loved but recently closed yarn shop "A Yarn Less Raveled," will take you in detail through the knitCompanion basics. The course provides demonstrations and some guided hands-on work, wrapping up with guided support as you set up your own knitCompanion projects. At the end of this course, you will have a solid understanding of the basic capabilities of knitCompanion and will have set up your own PDF pattern in knitCompanion. We will also cover some Dropbox basics related to making the most of your knitCompanion.

Click here to learn more about the app and its capabilities. 

We would like you to watch this live Zoom class on a laptop or desktop while you have your tablet or phone in your hand to follow along with the instructions.
For those who do not have the means to attend a virtual class from home, we are offering the use of our space and equipment at Aranea Craft Studio for the Zoom presentation. You will still need your own device to run knitCompanion. If you choose this option, please send us a note or email with your registration so that we can prepare the space. 
PREREQUISITE SKILLS:
Experience accessing patterns on Ravelry. Very comfortable using your device (we will not cover general use or your phone or tablet in this class.

Android users: This class will be taught on an iPad, not an Android tablet. The app functions identically, no matter what platform it is on. The instructor is unfamiliar with Android devices, so she will only be able to provide support or instruction for the in-app functions of your device. We will supply Android users with helpful links, videos, and tutorials after class for device-specific questions.
SUPPLIES NEEDED:

Desktop/laptop to take the class.

Your iPad/iPhone/Android Tablet/Android Phone with the knitCompanion installed from the App Store. To get the most out of this class and this fantastic app, you'll need the paid version "Essentials" of KnitCompanion a yearly subscription fee of $14.99.

At least one electronic (pdf) pattern you'd like to use in knitCompanion and access to your Ravelry account (have login info available for quick reference).

Dropbox account for backup (optional). Have login info available.
KEY CLASS DETAILS:

Duration: 2 hours
Fee: $40
Instructor:
Mindy Owen
REQUIRED: 
Please provide your email and phone number with your registration for essential class communication.
Teacher Bio:
Mindy has been knitting, crocheting, and making since she was a young girl. Teaching is in her blood; both parents were teachers, and most of Mindy's career was in corporate Learning and Development roles. In ten years owning a local yarn shop, she taught many classes, combining her passion for teaching and learning with her love of fiber crafts.
~~~~~~~~~~~~~~~~~~~~~~~~~~~~~~~~~~~~~~~~~~~~~~~~~~~~~~~~
Shop policies:
We require your name, email address, and phone number for all class registrations. This is to ensure that we can contact you regarding essential class communication.
Shop Cancellation Policy: We reserve the right to cancel or reschedule a class due to the minimum number of students not being met, illness, or emergencies. Any refunds will be issued as store credit. In the event of a class rescheduling or cancellation, the communication will be sent via email. Please be sure to check your email prior to class. Providing your phone number in addition to email will ensure that we can reach you in the event of an emergency or short-notice communication. If we do not have a way to get in touch with you and must cancel a class, you forfeit your class fees.
We are partnering with another local yarn store, In Between Stitches, to bring you this online class.

What does this mean for you?
What this means is that you will pay for registration with us, but we will be sharing your name and email address with the partnering shop, as they will be emailing you the Zoom link and the recording after the class(es).
Since this is an online class, all class participants can access the recording for six months, therefore there will be NO cancellation refunds or store credit, superseding our normal shop cancellation policy. Your registration fee is final.
In signing up for this class, you agree to Aranea Craft Studio's shop policies.