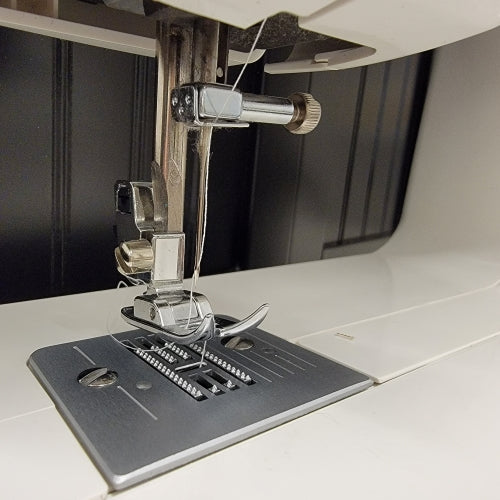 Get to Know Your Sewing Machine - Private Lesson with Erin Ambrose
Do you have a sewing machine sitting around in your home that you would like to start using but don't know where to begin? Are you considering purchasing one but would like to learn a few basics first? This is the place for you!
Signing up for this service gives you a one-hour private lesson at the studio in which you will get to know your machine well enough to start on the very basics of sewing. This is not necessarily a sewing lesson, but a way to familiarize yourself with the machine. Think of it as driver's training for sewing. With this knowledge, you will then be prepared for future sewing classes and/or to continue to learn independently.
Two options are available for this lesson:
You may bring in your own machine (must be clean and in working order, with at least one empty bobbin and universal needle), or
You may rent a machine through the studio. There is an additional $5 rental fee.
Materials will be included: A small spool of thread, straight pins, paper/pencil, and a square of fabric. Please be sure to provide your phone number and email address to ensure effective communication prior to your scheduled lesson.
REQUIRED: 
Call or email to schedule your lesson: info@araneacraftstudio.com / (510) 274-5050. Please provide your email and phone number with your registration for essential class communication. The lesson must be paid in full to reserve your spot.
-
Minimum age: 12
If you are a parent/guardian signing up a minor child for this lesson, PLEASE notify us immediately as there will be additional information needed in order to ensure the child's safety. If the required information is not obtained, the parent/guardian MUST stay present for the duration of the lesson.
-
About the teacher:
Erin Ambrose is the owner of Aranea Craft Studio and a lifelong Hayward Resident (Go Farmers!). Erin started sewing as a teenager, which eventually led her to study costume design at CSUEB. Before diving into the fiber arts, Erin did side work as a dressmaker in the area, sewing vintage & historical replicas as well as formals, wedding dresses, and costumes. She encourages people to learn more about the benefits of slow fashion, pulling from local resources and loves to see those around her learn and grow through creativity.