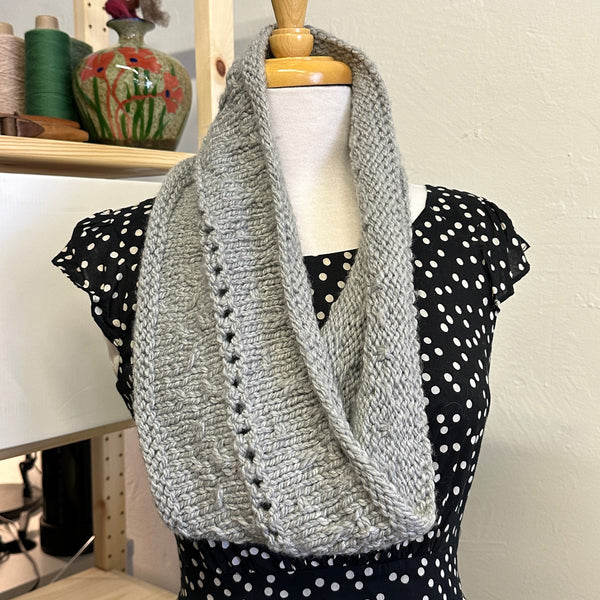 Knitting 201 - Casual Knit Cowl with Leslie Owen
Learn to knit a cowl in this project-based class in a fun and supportive environment! This is an advanced beginner class that will teach you how to work in the round with larger needles and chunky yarn. Creating a cowl is a great next step into the world of knitting. Learning how to make a cowl helps build skills for so many other projects, such as hats, sweaters, and socks, to name a few. 

We are creating a textured circular cowl designed to help you learn new skills.
What You Will Learn:
In this class, you will learn about working in the round, fast swatching in the round, adding stitches for working in multiples for a stitch pattern, slip stitches, creating simple lace, and working with stitch manipulation (i.e., cables).
REQUIRED:
Please provide your email and phone number with your registration for essential class communication.

Pre-requisites:
Long-tail Cast on
Bind off
Knit
Purl
Read a knitting pattern
Objectives:
When you complete this workshop, you will be able to:
Knit and purl in the round

Knit simple lace

Knit simple cables (1x1)
Knit simple slip-stitch patterns

Complete fast swatching in the round

Materials:
Please use yarn purchased from Aranea Craft Studio. You will receive a one-time 10% discount on the yarn purchase for this class, provided after registration is complete.
Key Class Details:
Duration: 2 sessions, 4 hours total
Materials are NOT included (Please use yarn purchased at Aranea Craft Studio)
Maximum 6 students per class;  Minimum 3 students
Please Note:
Minimum Age Requirement: 18 years old.
Teacher Bio:
Leslie has been knitting and crocheting since 2003.  She is a big sweater knitter, but she makes all sorts of things.  Leslie teaches classes from beginners to advanced.  She is also a maker and small business owner of progress keepers/charms, shawl pins, and jewelry.
For the safety and security of the students and staff, please wear a mask at all times to prevent the spread of germs. Thank you!
~~~~~~~~~~~~~~~~~~~~~~~~~~~~~~~~~~~~~~~~~~~~~~~~~~~~~~~~
Shop policies:
We require your name, email address, and phone number for all class registrations. This is to ensure that we can contact you regarding essential class communication.
Shop Cancellation Policy: We reserve the right to cancel or reschedule a class due to the minimum number of students not being met, illness, or emergencies. Any refunds will be issued as store credit. In the event of a class rescheduling or cancellation, the communication will be sent via email. Please be sure to check your email prior to class. Providing your phone number in addition to email will ensure that we can reach you in the event of an emergency or short-notice communication. If we do not have a way to get in touch with you and must cancel a class, you forfeit your class fees.
Customer Cancellation Policy: You may cancel your registration in a class within 3 days of the class to receive store credit. If you cancel your registration 3 days or less, you forfeit your class fees.
In signing up for this class, you agree to Aranea Craft Studio's shop policies.