Hayward's Local Yarn Store

Established in July of 2021, Aranea Craft Studio is Hayward's very own yarn & fabric shop located downtown at the heart of the East Bay. We pride ourselves in serving our diverse community with the means to create unique items through textile arts and crafts. In addition to materials and notions for making, we offer classes and lessons on a quarterly schedule, pulling from the expertise of in-house and local guest instructors.
Our mission is to support the creative growth of all in an inclusive and community-oriented environment.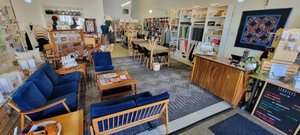 Textile Makerspace
Our goal moving into the future, is to open studio space for membership use. This will include the rental of equipment that typically costs an individual a large investment of money and/or space. By providing the use of such things in our studio, we open opportunities that may otherwise not be available. Activities that will be offered in the studio are weaving using a rigid heddle, table, tapestry, or floor loom; creating yarn on a spinning wheel; drum carding wool; winding and skeining yarns; and pressing, sewing, and cutting fabics for quilting or garment making. Studio use will not include instruction.

If you are interested in helping us pilot this program into reality, drop us a line! If you are eager to hear news going forward, sign up for our email newsletter at the bottom of this page.
Brick & Mortar
Tuesday - 11:00 am to 5:00 pm
Wednesday - 11:00 am to 5:00 pm
Thursday - 1:00 pm to 7:00 pm
Friday - 11:00 am - 5:00 pm
Saturday - 11:00 am - 5:00 pm
Sunday - 11:00 am to 3:00 pm
Monday - Closed
943 C Street
Hayward, CA 94541
(510) 274-5050
info@araneacraftstudio.com
Parking in downtown Hayward is FREE!
Handicap parking available
5 Minutes walking distance to/from Hayward BART