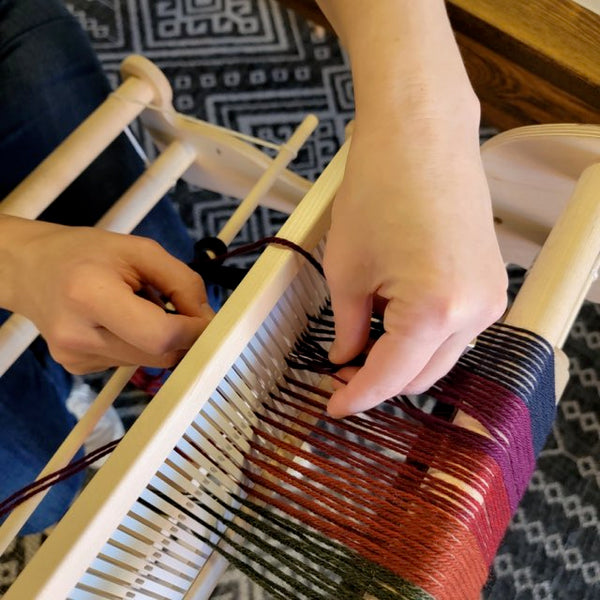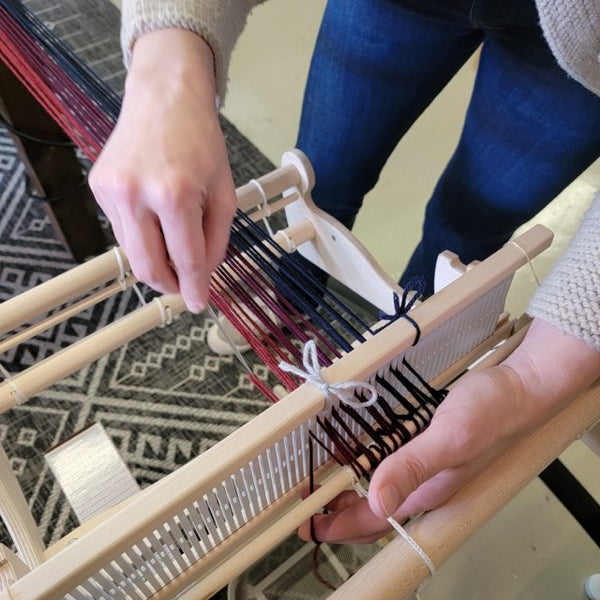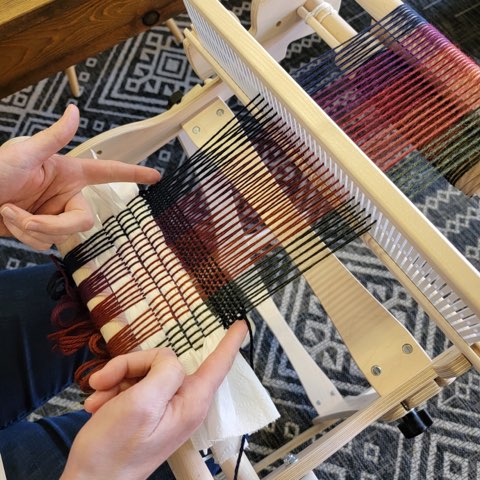 Beginning Rigid Heddle Weaving Workshop with Erin A
Weave a scarf from start to finish in this one-day workshop!
The rigid heddle loom is a very portable, inexpensive, and elegantly simple tool for weaving. The Cricket Loom is a small rigid heddle loom ideal for knitters who want to use leftover yarn, spinners with yarn to spare, and those just inspired to try weaving. Learn how to warp using the direct warping peg method and to weave a scarf using a variety of yarns. 
There will be a 1-hour break for lunch. You may bring lunch, or there are places to eat nearby in downtown Hayward.
REQUIRED: 
Please provide your email and phone number with your registration for essential class communication.
What you will learn:
Prerequisite:
Materials needed: 
(We request yarn used to be purchased from our shop. You will receive a one-time 10% class material discount for yarn for this class.)
10 or 15-inch rigid heddle loom (with up and down shed positions)

(provided)

8-dent heddle

(provided)

Stick shuttle (minimum of 1)

(provided)

Warping peg (provided)
Scissors
1x 100g skein or 2-5 smaller/mini skeins (for optional houndstooth pattern or stripes) of worsted weight wool yarn (wound up into a ball or cake, ready for class). Recommended: Cascade 220, Cascade 220 Minis, Malagrigo Rios, Sincere Sheep Worsted Cormo.
Key Class Details:
Duration: 1 session, 6 hours of instruction
Looms will be provided. If you purchase a loom from us, $15 of your class fee may be applied to this. We will be using the Schacht 15" Cricket.
We request yarn used to be purchased from our shop. You will receive a one-time 10% class material discount for yarn for this class. 
An email will be sent before the class with important information, but you may, of course, contact us at any time with questions: info@araneacraftstudio.com
Maximum 6 students per class; Minimum 2 students
For the safety and security of the students and staff, please wear a mask to prevent the spread of germs. Thank you!
Instructor:
Erin Ambrose
~~~~~~~~~~~~~~~~~~~~~~~~~~~~~~~~~~~~~~~~~~~~~~~~~~~~~~~~
Shop policies:
We require your name, email address, and phone number for all class registrations. This is to ensure that we can contact you regarding essential class communication.
Shop Cancellation Policy: We reserve the right to cancel or reschedule a class due to the minimum number of students not being met, illness, or emergencies. Any refunds will be issued as store credit. In the event of a class rescheduling or cancellation, the communication will be sent via email. Please be sure to check your email prior to class. Providing your phone number in addition to email will ensure that we can reach you in the event of an emergency or short-notice communication. If we do not have a way to get in touch with you and must cancel a class, you forfeit your class fees.
Customer Cancellation Policy: You may cancel your registration in a class within 3 days of the class to receive store credit. If you cancel your registration 3 days or less, you forfeit your class fees.
In signing up for this class, you agree to Aranea Craft Studio's shop policies