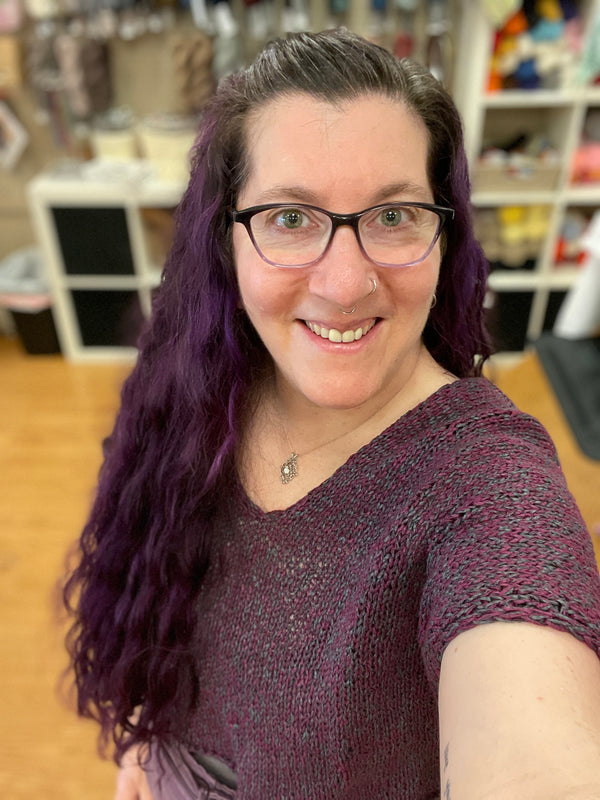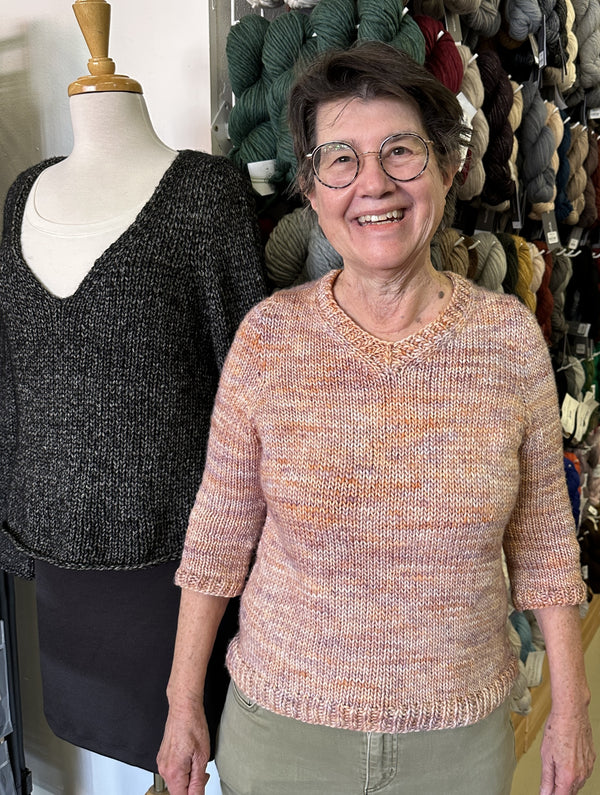 Cocoknits Sweater Method Knit-Along (KAL)
Join us for our guided Knit-Along, where you select a Cocoknits Method sweater pattern to knit! This KAL is designed for knitters who have already knit at least one Cocoknits Method sweater.

Have you knit a sweater following the tailored Cocoknits Method? If so, join us on this Guided Knit-Along and knit another Cocoknits Method sweater from Julie's vast array of pattern designs.

We will come together as a community and refresh and learn new techniques. This KAL is designed for knitters who have already knit at least one Cocoknits Method sweater.
This will be a Guided Knit-Along, where we provide quick refreshers for the Cocoknits method techniques and resources for you to follow along at your own pace. This is a 5-week KAL, so read on and register to join us! While this isn't an in-depth class like our Cocoknits Method Sweater Workshop, you'll refresh some of the basic Cocoknits techniques as we knit together. This will offer social time as well.

To participate with us, you'll need to:

Please register and pay the $50 fee to participate and also online for our Guided Cocoknits Method Sweater KAL using this form.
Purchase a copy of the Cocoknits Method Workshop book (available on our website or in-store), or use your own copy.
Purchase your Cocoknits Method sweater yarn from Aranea Craft Studio.
Purchase your selected pattern from Ravelry or directly from the Cocoknits Website (electronic versions are available), or select a pattern from the Cocoknits Sweater Workshop book.
Here's the KAL Schedule:

Meet 5 sessions
Tuesday Evenings 5:00- 6:30p on Nov 14, 21, 28, Dec 12 & 19. We encourage you to select your pattern and yarn before the kickoff session so that you can knit your gauge swatch. 

Required: This Guided KAL is for knitters who have completed at least one Cocoknits sweater using the Cocoknits Method.
Leslie will be hosting this Guided KAL. 
Key KAL Details:
Duration: 5 sessions, 7.5 hours total. 
Tuesday Evenings 5:00- 6:30p on Nov 14, 21, 28, Dec 12 & 19


Minimum 3 participants

Minimum Age: 18

REQUIRED: Please provide your email and phone number with your registration for essential class communication. 
~~~~~~~~~~~~~~~~~~~~~~~~~~~~~~~~~~~~~~~~~~~~~~~~~~~~~~~~
Shop policies:
We require your name, email address, and phone number for all class registrations. This is to ensure that we can contact you regarding essential class communication.
Shop Cancellation Policy: We reserve the right to cancel or reschedule a class due to the minimum number of students not being met, illness, or emergencies. Any refunds will be issued as store credit. The communication will be sent via email if a class is rescheduled or canceled. Please be sure to check your email prior to class. Providing your phone number and email will ensure that we can reach you in the event of an emergency or short-notice communication. If we do not have a way to get in touch with you and must cancel a class, you forfeit your class fees.
Customer Cancellation Policy: You may cancel your registration in a class within 3 days of the class to receive store credit. If you cancel your registration 3 days or less, you forfeit your class fees.
In signing up for this class, you agree to Aranea Craft Studio's shop policies.